ALABAMA:
Falkville – Fairview (2)
Hartselle – Life Church
FLORIDA:
Milton – True Worship
Jacksonville – Cornerstone Baptist
INDIANA:
Indianapolis - Westlake Community (4)
Mooresville - Life Pointe
New Albany - First Church
KENTUCKY:
London – Soul's Harbor
Morehead – Community Fellowship
Mt. Sterling – Abundant Life (2)
Mt. Sterling - First Church
Mt. Sterling – United Church
Williamstown – Revive Church
NEW YORK:
Sayville – Gospel Community Valor
NORTH CAROLINA:
Hickory - First Church
Lenoir – Whitnel
Morganton - First Church
OHIO:
Dayton - Salem Church
Franklin - Towne Blvd.
Hamilton – BridgeWater Church
London – Sons of Thunder
New Springfield – New Springfield COG
Oxford – Ambassador Point
Springfield - Fellowship
Springfield - HOPE
PENNSYLVANIA:
Kittanning - First Church
Lititz – River of Life
Monroeville – Walnut Grove
Oakmont – Riverside Community
Pittsburgh – Amplify Church
Punxsutawney - First Church
SOUTH CAROLINA:
Aiken – Greater Ministries
TENNESSEE:
Bluff City – Elizabeth Chapel
Bristol – Avoca Christian
VIRGINA:
Chesapeake – One City Church
Culpeper - Culpeper UMC
Dublin – Grace Baptist
Gretna – Cluster Pine Holy Church
Harrisonburg – Greater Ministries
Lynchburg - Missions Ministry
Roanoke – Heights Community
Roanoke – L.I.F. Ministries
Roanoke – Mt. Pleasant Baptist
Roanoke – Perfecting Unity
Salem – Glenvar Baptist
Shawsville - Moore's Chapel
Smith Mountain Lake – Westlake
VA Beach – C2C
Vinton – Lynn Haven Baptist
WEST VIRGINIA:
Hedgesville – Hedgesville Church
Martinsburg – Independence Bible




Raising Funds For Mission In Paraguay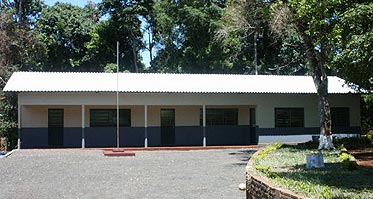 Being a church of God event we took an offering during the "ball players" service. What should we do with the funds received of $176.00? Twila Briscoe's college roommate from Anderson (college) University and her husband were starting a new Christian school on the mission fields of Paraguay, we felt like the funds would be a good use there. The Alfa-Omega Christian school has become a local consideration for the funds that we have received each year since.

In 1984 the players from the First Church in Hickory North Carolina challenged the other teams to raise the support for scholarships for the students who needed help to pay the $125.00 tuition for the mission school. Martin and Tabitha and their family have been back for Labor Day Weekend five times in the past few years. Their oldest son Norberto has graduated from Anderson University and the School of Theology and some of the gifts of the softball tourney have helped him reach his goal and he has now returned to Paraguay to pastor and start the first Christian radio station in Paraguay with his wife Julie.



In 1987 the Briscoe's spent three weeks in Paraguay sharing and meeting the folks of the churches of this country. While there they shared in worship services and the schools graduation and helped to build playground equipment for the school. During the 1998 Tournament worship service to celebrate our twentieth year of playing we raised $20,000 for the school and the national work of Paraguay. The softball teams and their churches have raised now close to $150,000 that have been relayed through the world service office in Anderson to the Kurrle family in Paraguay.

For more information on Paraguay and how you can be involved, contact the tournament coordinator Chad Briscoe. Click on the commitee link for information on how to contact him.